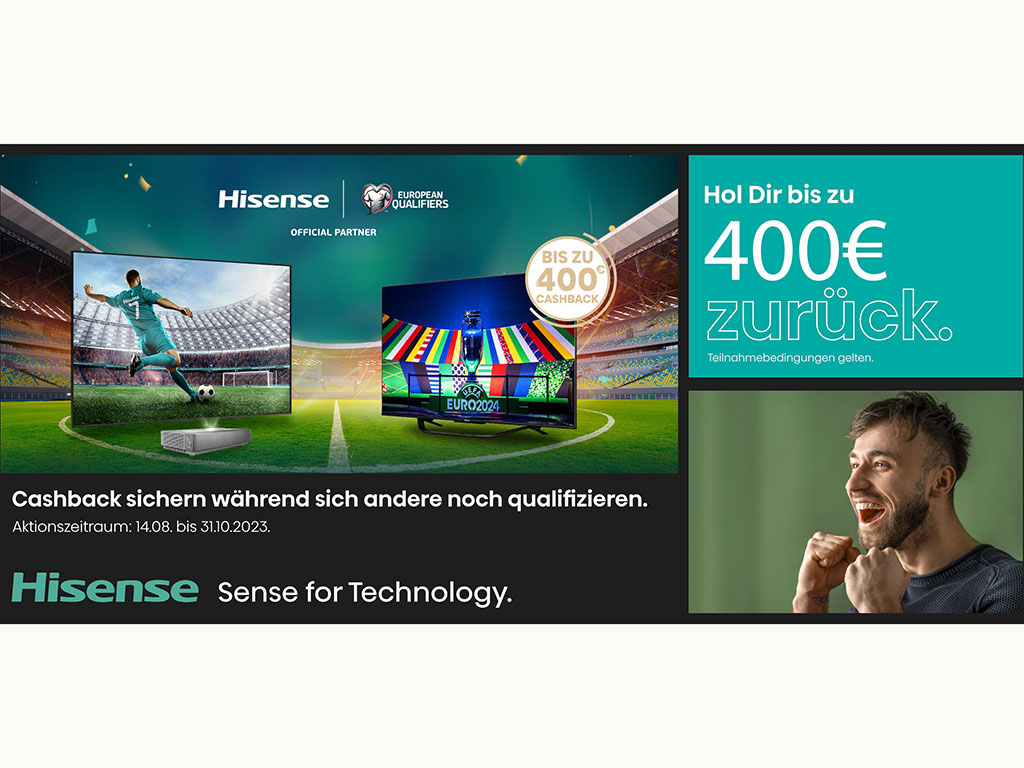 Unter dem Motto "Way to Glory" startet Hisense am 14. August 2023 eine großangelegte Cashback-Aktion. 
Diesen September wird es spannend für Hisense: Zum einen steht mit der IFA das Technik-Event des Jahres im Kalender und damit die Präsentation der neuen Produkt-Highlights. Zum anderen geht das European Qualifiers Turnier, bei dem Hisense als offizieller Sponsor auftritt, in die nächste Runde.
Hisense feiert die erfolgreiche Partnerschaft mit der UEFA und den IFA-Start mit einer breit gestreuten Marketing- und Sellout Kampagne: Vom 14. August – 31.Oktober 2023 erhalten Kundinnen und Kunden beim Kauf eines der ausgewählten Heromodelle aus den Bereichen TV, Laser-TV und Soundbars bis zu 400 Euro zurück. Die Abwicklung ist für teilnehmende Händler und Kunden gewohnt einfach: Nach dem Kauf eines oder mehrerer Aktionsmodelle bei einem teilnehmenden Händler, registrieren sich die Kunden auf der Kampagnen-Landing-Page (www.hisense-cashback.de) und erhalten den Cashback Betrag direkt ausgezahlt.
Kaufanreize schaffen
Um den Abverkauf direkt am Point of Sale zu unterstützen, platziert Hisense bei den teilnehmenden Fachhandelspartnern aufmerksamkeitsstarke Kampagnen-Materialien. Online finden sich alle Informationen zur Cashback-Aktion und den Hero-Produkten sowie eine Verlinkung zu den teilnehmenden Händlern auf einer eigens eingerichteten Landing Page. 
Zudem hält Hisense potenzielle Kunden und Kundinnen mit informativen Newslettern im Aktionszeitraum auf dem Laufenden. Gezielte PR-Aktivitäten, eine breite Bespielung der Social-Media-Kanäle mit Anzeigen auf Google, Facebook und Instragram sowie die Zusammenarbeit mit Influencern runden die Kampagnen-Maßnahmen ab und werden für die nötige Aufmerksamkeit sorgen.